Welcome to our 2020 Employee Spotlight blog series! Today you'll get to know a little more about Brooke Parker, Commercial Account Manager.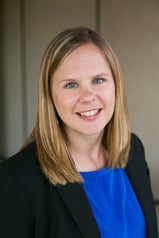 What's one thing that has surprised you about working here?
Insurance is ever changing and actually very interesting and not boring!
What's the biggest misconception people have about your position?
That insurance is boring and drab. It's actually quite rewarding to help my clients navigate through something that they are not very familiar with and give them one less thing to worry about while running their business. I like to be a problem solver.
What's one professional skill you're currently working on?
Nothing official at the moment (like a designation), but I am working on several committees and mentoring some of my co-workers to become Account Managers.
If you could switch your job with anyone else within our organization, whose job would you want and why?
I don't think I would switch jobs with anyone.
Now, for some fun facts...
What's a trip that changed you, and why?
When I went to Germany as an exchange student in high school. I had never been out of the country and experienced another culture before. It was very eye opening and great way to get out of the bubble of the mid-west.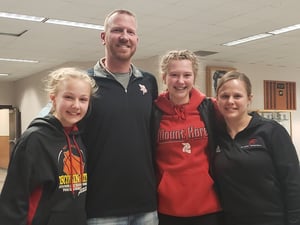 What's one of your favorite memories from the past year?
Although it wasn't that long ago, it would be my youngest daughter winning her State Basketball tournament. They are the 1st girls team in Mt. Horeb to win.
What's your favorite place to eat around here?
Sushi Red.
What's something you've done, but will never do again?
Climb Dunn's River Falls in Ocho Rios, Jamaica.
What's the first concert you ever went to?
Dave Mathews Band at Alpine Valley.
What's your favorite TV show—the one you're always watching on repeat?
Currently, The Marvelous Mrs. Maisel. If there isn't anything on to watch then we put on The Office on Netflix.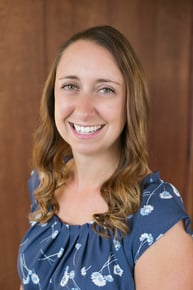 Rachel DeGrand
Rachel joined Hausmann Group in 2015 and became Manager of Marketing Operations in 2018. In her role, she develops and implements marketing and advertising campaigns, oversees strategic events, and supports business development. She also organized the formation of the Community Impact Team at HG, which focuses on company-wide volunteering and community giving. Rachel has a Bachelor's degree in Education from Grand Valley State University. She enjoys running year-round and participating in road races. She's a member of the Business Volunteer Network and regularly volunteers for organizations such as United Way, Alzheimer's Association, and the Ironman Foundation. Her favorite volunteer work is helping organize the annual fundraiser hosted by HG – Melody's Hope for Children Tailgate.