Welcome to our 2020 Employee Spotlight blog series! Today you'll get to know a little more about Alex Bauer, Commercial Client Advisor.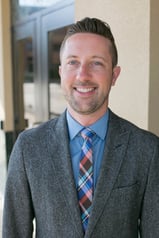 What's one thing that has surprised you about working here?
The amount of variety. Both in the types of businesses that our agency works with, and the types of insurance coverage and things you can insure. You can insure anything…for the right price!
What's the biggest misconception people have about your position?
That insurance is boring, of course. I really don't think I am in the business of selling insurance. I am in the business of helping my clients find the best solutions to protect their businesses and meet their risk management goals. Insurance is often a solution, and that world is ever changing and I enjoy helping my clients understand and navigate that world.
What's one professional skill you're currently working on?
Public speaking. I am doing more presentations and webinars this year to really reach a wider audience and make more professional connections.
If you could switch your job with anyone else within our organization, whose job would you want and why?
I think it would be interesting to be in Rick Barton's shoes for a few days or weeks. He is out there day in and day out inspecting facilities, doing safety training, and really helping our clients build safety culture and improve their operations.
Now, for some fun facts...
What's a trip that changed you, and why?
Probably the first time that I went to the Ice Climbing Festival in Ouray, Colorado in 2007 or so. Frist time I really got to do a bunch of outdoor activity in the mountains, and helped instill a love for the mountains and American West in me.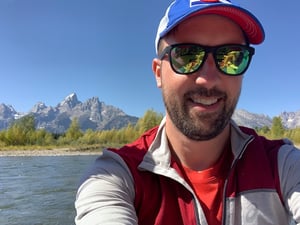 Do you have a hidden talent? What is it?
Playing trombone. That's not really hidden, though, since I regularly perform around town. Insurance agent and professional musician is an uncommon combination of jobs, I imagine!
What's your favorite place to eat around here?
Sushi Red is a favorite, of course. If I am grabbing lunch, I'll get a poké bowl at Miko Poké, or tacos at El Rancho Mexican Grill on South Park Street.
What's the first concert you ever went to?
I saw Moby at the Barrymore in 1999 (Kids, Moby was a popular recording artist in the early 2000s)
What's your favorite TV show—the one you're always watching on repeat?
How I Met Your Mother. I have probably seen all of the seasons at least four times. I admit that like many fans of the show, I was a little disappointed by the end of the series, but the overall body of work is still excellent.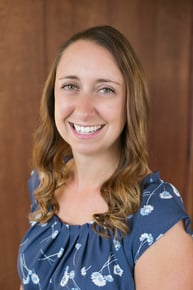 Rachel DeGrand
Rachel joined Hausmann Group in 2015 and became Manager of Marketing Operations in 2018. In her role, she develops and implements marketing and advertising campaigns, oversees strategic events, and supports business development. She also organized the formation of the Community Impact Team at HG, which focuses on company-wide volunteering and community giving. Rachel has a Bachelor's degree in Education from Grand Valley State University. She enjoys running year-round and participating in road races. She's a member of the Business Volunteer Network and regularly volunteers for organizations such as United Way, Alzheimer's Association, and the Ironman Foundation. Her favorite volunteer work is helping organize the annual fundraiser hosted by HG – Melody's Hope for Children Tailgate.