As of November 9, 2020, Wisconsin is reporting a rate of 12.8% for positive COVID-19 tests. Among the five midwestern states, Michigan has the lowest rate at 4.4%. The Midwest's percentage of positive tests is above the median for all states (Midwest: 9.0%, median for all states: 7.6%).
Below is a look at Wisconsin's two-day net change in COVID-19 positive rates in addition to hospitalizations and fatalities.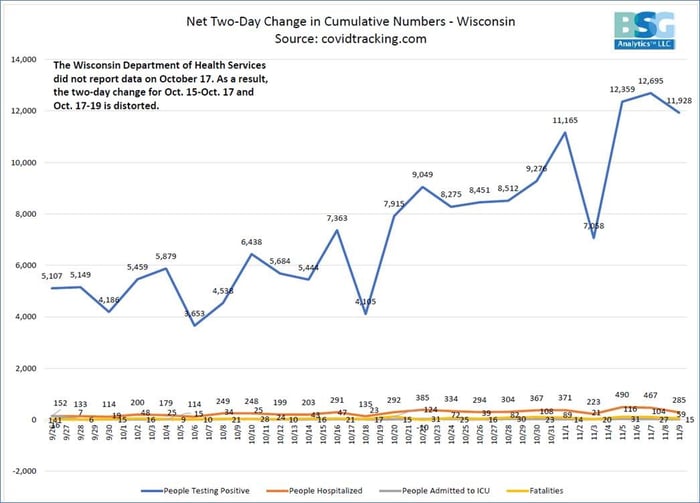 Wisconsin Hospital Association (WHA): Below is a look at the statewide and regional hospital and ICU patient counts, immediately available beds, and percentage of total hospital and ICU beds which are occupied by COVID-19 patients as of November 8, 2020.


The number of hospital and ICU beds immediately available represent the total available beds throughout the region.
*ICU patients are also included in the hospital counts.
Source: https://www.wha.org/COVID19Update
We hope that you find this information of value as we all continue to navigate through the COVID-19 pandemic. We will continue to regularly update the COVID-19 Data Tracker as more data becomes available.
Click here to download the complete COVID-19 Data Tracker for November 9, 2020.