The Wisconsin Department of Health Services recently upgraded their system and has shared the following disclaimer:
"Please note that the Wisconsin Electronic Disease Surveillance (WEDSS) system underwent routine maintenance and enhancements over the weekend of October 16-18, 2020. During that time, data reporting and visualization updates were temporarily paused. Due to this temporary pause in reporting, no new cases were reported out on October 17, 2020. This resulted in a backlog of positive cases. As health departments work through importing these cases, our historical data and case numbers may be higher over the next few days. The upgrade to WEDSS allows negative results to be automatically imported into the system, which is why the backlog only applies to positive cases. DHS has resumed their regular schedule of data refreshing as of October 19, 2020. For a more accurate representation of COVID-19 in Wisconsin over the course of this upgrade, we recommend looking at the 7-day rolling averages."
As of October 4, 2020, Wisconsin is reporting a rate of 10.1% for positive COVID-19 tests. Among the five midwestern states, Michigan has the lowest rate at 3.8%. The Midwest's percentage of positive tests is slightly above the median for all states (Midwest: 7.4%, median for all states: 7.2%).
Below is a look at Wisconsin's two-day net change in COVID-19 positive rates in addition to hospitalizations and fatalities.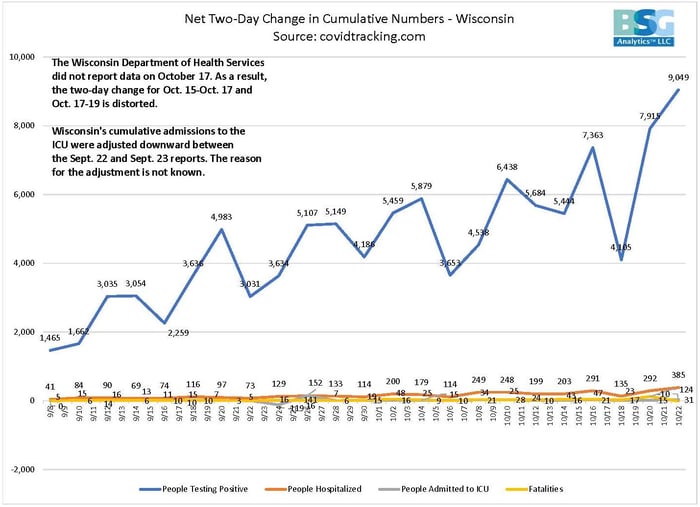 Below is a regional look at the changes in positive COVID-19 cases in Wisconsin.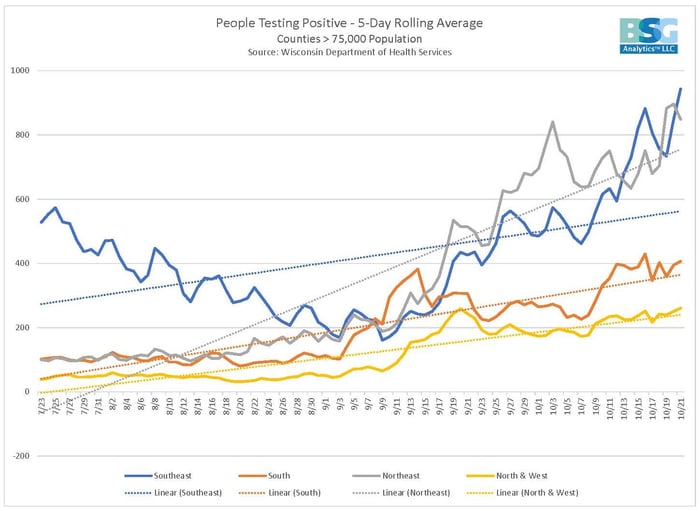 Wisconsin Hospital Association (WHA): Below is a look at the statewide and regional hospital and ICU patient counts, immediately available beds, and percentage of total hospital and ICU beds which are occupied by COVID-19 patients as of October 21, 2020.


The number of hospital and ICU beds immediately available represent the total available beds throughout the region.
*ICU patients are also included in the hospital counts.
Source: https://www.wha.org/COVID19Update
We hope that you find this information of value as we all continue to navigate through the COVID-19 pandemic. We will continue to regularly update the COVID-19 Data Tracker as more data becomes available.
Click here to download the complete COVID-19 Data Tracker for October 22, 2020.
Click here to download the Wisconsin Positives By County Tracker for October 21, 2020.