Hausmann-Johnson Insurance is proud to announce and welcome Alissa Martin as a Benefits Consultant.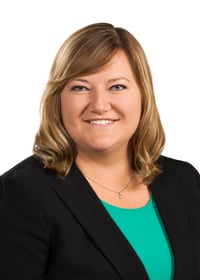 Alissa has a family history of insurance, which inspired her to pursue the industry. Throughout her career, she has had the opportunity to work in many different capacities within the insurance industry. She was an Outside Sales Executive with Humana, a Senior Sales Executive with Amertias, and an Account Manager with McInnes Group. In these roles Alissa recognized that it's all about helping clients and ensuring they are getting the most out of their benefits. It's her responsibility to ensure both the employer and their employees have the coverage they need to be healthy and fulfilled. She feels her new role at HJI is the culmination of her diverse insurance experience and she is eager to share her knowledge.
Alissa holds BA in Reconciliation Studies and Mediation from Bethel University. She has volunteered extensively with Kids Around the World through packaging food for children in third world countries and traveling to Haiti to build playgrounds for underprivileged children. She also enjoys playing volleyball, boating on Lake Geneva, and traveling to discover new adventures whether they are local or abroad.
Please join us in welcoming Alissa to the HJI team!