Hausmann-Johnson Insurance (HJI) is proud to announce Bill Nagy has joined our team as a Property and Casualty Consultant.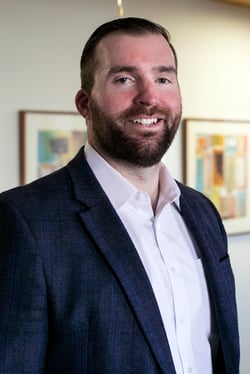 "Bill is a great fit for our risk management team," says Barry Richter, President. "His work ethic, technical skill set, and passion to do what is best for clients are important core values that match ours as an organization. We are proud to have him aboard and part of our future success!"
Bill is a graduate of the University of Wisconsin - Madison and also holds an MBA from Ohio University. He played football professionally for 3 years and followed up that experience as a coach. After transitioning out of football, he began his career in the insurance industry.
Bill's passion lies in ensuring people and their businesses are in the best position possible to be successful. He builds strong, lasting relationships with his clients who entrust him with their insurance programs so they can focus on what is most important.
At home, Bill and his wife, Jessa, have 3 wonderful children that keep them busy. They are both former Badger student-athletes, so they enjoy cheering on the football and volleyball teams at their alma mater.
"HJI has a excellent reputation within the industry and I am excited to be part of a team that believes in taking a collaborative approach," says Bill. "Additionally, giving back and volunteering is a significant part of my personal values and I am thankful for the opportunity to join a team that shares in those."
Please join us in welcoming Bill to the HJI team!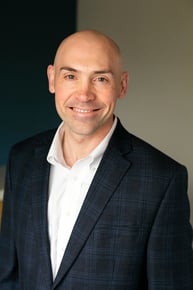 Jim Ahearn
Before joining the team at Hausmann-Johnson Insurance in 2008, Jim partnered with HJI as a property and casualty underwriter at Cincinnati Insurance. While he underwrote commercial insurance programs for HJI, he also led a team of claims, audit, and risk control representatives with Cincinnati. This level of involvement gave Jim an intimate knowledge of HJI's clientele, level of service, and way of doing business. Jim's experience lent itself well towards a transition to the agency, giving Hausmann-Johnson the expertise to better negotiate for clients and position them at a higher level in the insurance marketplace. Now as Vice President of Risk Management, Jim is involved with HJI's most complex insurance programs and largest clients. Jim became a shareholder of Hausmann-Johnson in 2011. He holds a bachelor's degree from Elon University and has pursued post-graduate studies. He is a Chartered Property Casualty Underwriter (CPCU) and holds the Certified Risk Management (CRM) and Certified Insurance Counselor (CIC) designations from the National Alliance for Insurance Education and Research.