As of October 4, 2020, Wisconsin is reporting a rate of 8.2% for positive COVID-19 tests. Among the five midwestern states, Michigan has the lowest rate at 3.8%. The Midwest's percentage of positive tests is below the median for all states (Midwest: 7.0%, median for all states: 7.2%).
Below is a look at Wisconsin's two-day net change in COVID-19 positive rates in addition to hospitalizations and fatalities.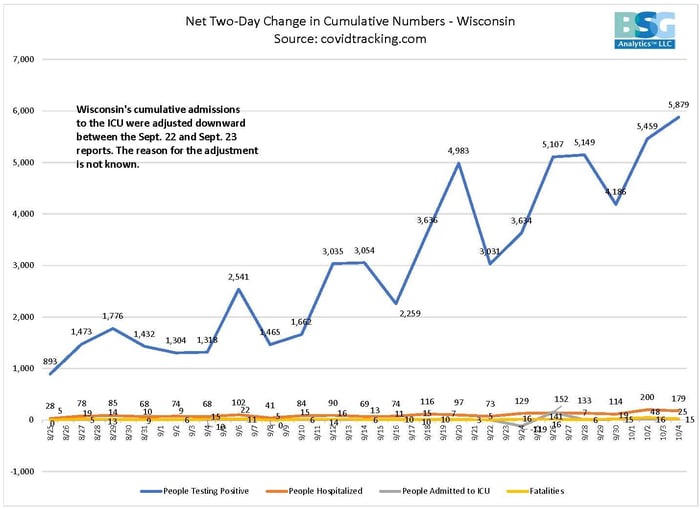 Drilling into the outcomes for people testing positive for COVID-19, below is a chart showing the 10-day rolling average.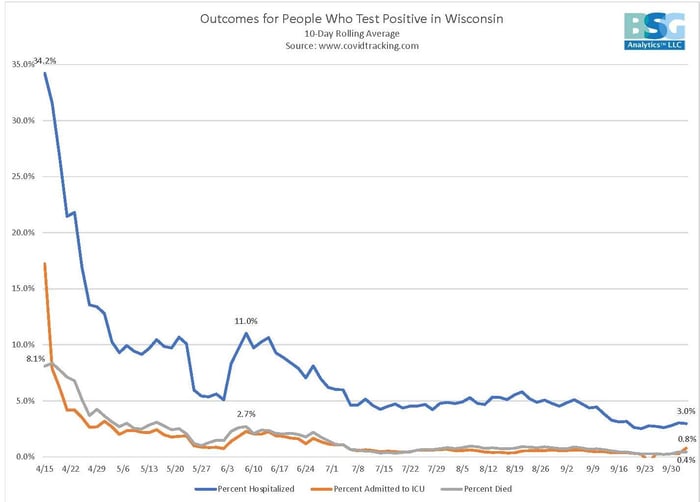 Wisconsin Hospital Association (WHA): As of October 4, 2020, WHA is reporting 714 hospitalized COVID-19 patients. This is a net increase of 22 patients since October 3 and 143 patients in the last week. Of the 714 hospitalized patients, 194 are in the ICU which is an increase of 28 patients in the last week. Currently, there are 246 ICU beds immediately available in addition to 131 intermediate care beds, 999 medical surgical beds and 839 neg flow isolation beds.
We hope that you find this information of value as we all continue to navigate through the COVID-19 pandemic. We will continue to regularly update the COVID-19 Data Tracker as more data becomes available.
Click here to download the complete COVID-19 Data Tracker for October 4, 2020 from our BSG Analytics team.