2020 has shaped up to be a year that defies description for employers. We can all agree that the times we are living in and the challenges employers and employees face are unprecedented.
The sprint that many of us hoped COVID-19 would be has turned into a marathon. We will not be returning to normal any time in the near future, or perhaps ever, and each new normal we adapt to evolves rapidly into something else.
It's time to consider the next significant challenge many of our employees with school-age children will face: adapting to the resumption of school this fall.
Perhaps some school districts will reopen with no change to transportation or scheduling of classes and activities. That would be an ideal situation if it can be done safely.
The Wisconsin Department of Public Instruction has issued a guidance document titled "Education Forward – Safely and Successfully Reopening Wisconsin's Schools." It discusses several different models for instruction such as:
4 days of in-person instruction, 1 day virtual each week.
2 day rotations – half of the students attend class Mondays and Tuesdays, the other half Thursdays and Fridays. The facilities are closed on Wednesdays for deep cleaning. 3 days per week students learn virtually.
A/B week rotations – Half the students attend in-person class one week, then move to virtual for the next week when the other half attends in-person.
Elementary students attend in-person class 5 days a week but are spread out into middle school and high school facilities. Middle and high school students attend class virtually all year.
As you think about your workforce, consider that employees may have children in a variety of different school districts based upon where they live. So accommodations that you might make for one employee may need to be different for other employees because their school districts have adopted different schedules.
After-school programs may or may not be open, or employees may be uncomfortable placing their children in those programs. Some employees may choose to move their children to all virtual instruction alternative schools either wanting the consistency of that type of instruction full time or wanting to avoid risking their children's exposure to others in the classroom. Some employees may have an immunocompromised family member in the household and may choose all virtual instruction in response to that situation.
A reminder is that Emergency Paid Sick Leave and Emergency Paid Family Leave benefits may be available to your employees through December 31, 2020, if they are unable to work or telework due to the need to care for a child under the age of 18 because of school or child care closure due to a public health emergency. Individually evaluating each employee's situation will be necessary to determine whether or not the employee qualifies for this benefit.
Employees may ask you for alternate schedules or perhaps even be interested in moving to part-time employment in order to balance their work responsibilities with the level of time they need to devote to child care or instruction.
This is a stressful time for employers and employees alike. Consideration now of accommodations and flexibility in scheduling may make your employees' home lives easier and may contribute greatly toward their long-term engagement with your organization.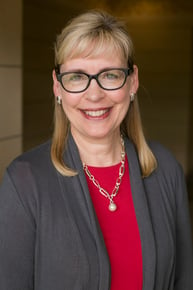 Mary Jo Spiekerman, SPHR, SHRM-SCP
With over 20 years of human resources management in numerous industries, Mary Jo is uniquely qualified to advise the clients of Hausmann Group on human resources related issues. She provides guidance on complex employment topics such as employee relations, talent management, recruitment, onboarding, and training. Mary Jo and her team help "lighten the load" for clients that may otherwise spend a lot of time, effort and energy attempting to do their own risk management and employee benefits administration. Mary Jo is especially excited about the journey Hausmann Group has taken to become designated as a Great Place to Work by the Great Place to Work Institute. She began studying the process over 10 years ago and when she joined Hausmann Group she knew the pieces were in place to catapult the agency onto the list of the 10 Best Places to Work in Insurance, which was achieved in 2015. Mary Jo is a graduate of Marian University with degrees in Business Administration and Human Relations. She is currently a member of the Board of Directors of Community Support Network and serves as a consultant to the Personnel Committee of her village board. When she's not working she takes the time to relax with family and friends at her cabin on the Wisconsin/Upper Michigan border.