How would you like to save money on your workers compensation premium and not have to do much work to do so? Sound too good to be true? One of the best ways to save money, and a motto I have preached for years, is this: Eliminate any lag time between when your employee is injured and when you report it to your insurance carrier. It sounds like such a simple practice to follow, yet many employers do not do this.

Let's define lag time. It is the period of time of when you learn of an employee being injured and the time you take to report it to your insurance carrier. Insurance carriers can and do measure this practice to see if you are a business worth insuring. Why is this such a big deal?
Here are some points to review, remember, and put into policy:
Many states have mandatory guidelines on when a claim should be reported. In Wisconsin, the insurance carrier has fourteen days from the date of loss to issue a lost time payment. If your employee is taken off work by their physician and you report the claim late, you as the employer may face a ten percent penalty. It's important to know the reporting guidelines in each state where you do business.

What is a reasonable reporting time? I would advise within 24 hours of notification of the injury. The earlier in the day you report a claim, the sooner the insurance company can respond to your request.

Prompt reporting demonstrates your concern for your employees. Let's say your employee is injured and you do not report this claim to your insurance carrier. Who is paying that employee if they are authorized off of work? How are you going to answer an employee when they ask you about receiving a check to feed their family? The sooner the claim is reported, the sooner the employee will start receiving benefits.

Do not wait to report a claim, even if you do not have all the information and even if you do not know if the employee sought medical treatment. Ask your insurance agent if the insurance carrier will accept "Record Only" claims. Let the claims department find any missing information; that service is included in your premium.

Find out the best way to report claims to your insurance carrier. Is it a phone call, fax, email or online? Insurance companies now have nurses on staff who triage claims. Does your insurance carrier do this? It's important to find this out as many of these nurses do the reporting for you to eliminate any lag time at all.

Procrastination is not your friend if you find that reporting claims is a hassle. You can actually contribute to the cost of a claim when you delay reporting. If an injured person does not understand workers compensation law, and is not getting guidance from a work comp case manager, they may seek medical treatment from several sources and incur medical treatment costs that may not be covered. Try to un-ring that bell! The longer a claim stays open, the more it will cost you in premium dollars.

An injured employee may seek legal counsel if their claim is not reported timely. If that occurs, the insurance company then has to deal directly with that attorney and that can definitely delay the process. It is best to keep a solid relationship with the injured employee during a claim. They are still your employee and you need to carry on with that in mind. Let the insurance company direct the claim and they will set expectations between them and your employee. Remain the neutral party if you can.
Let's wrap this up. Do a Google search on lag time for claims reporting and you will see many studies in what it may cost you the employer if you do not practice timely claim reporting.
Two weeks after accident – claim costs may be as much as 18% higher

Three to four weeks after accident – claims costs could be 30% higher

Four weeks after accident – claims costs could be 45% higher
What are you going to do with the extra money you saved by reporting claims promptly?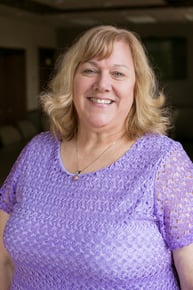 Peg Kramer, AIC, CPCU
Peg found her way to Hausmann Group in 2014 over a serendipitous lunch with a former coworker. She uses her 20+ years of experience in the claims field to be a champion for clients when they are faced with difficult situations. Peg's word is solid - she is tenacious and will go to great lengths to problem solve to provide the right answers. Peg believes that Wisconsin has the fairest and most equitable workers compensation program in the nation for both the employee and the employer. She prides herself in educating clients on what their options are under the program and how to prevent accidents, work with injured workers, and save money doing it. Peg grew up in her parent's grocery store and was the first "Cart Greeter" ahead of the big box stores starting at age 4. She graduated from the University of Wisconsin - Platteville with Bachelor's degrees in Criminal Justice and Psychology. On the weekends she loves to relax at her lake home in Oxford, Wisconsin or you can find her at garage sales, thrift shops and consignment stores learning the stories behind all of the interesting pieces for sale. She also actively volunteers at her church on the Parish Life Committee.