Welcome to the next post in our blog series: My Path to HJI. These are stories from associates on how they got started in insurance, what led them to their role at Hausmann-Johnson Insurance, and advice for others thinking about making a start in the industry.
This week's featured associate is Kathi Rowley. Read on to learn more about Kathi and connect with her on LinkedIn if you'd like!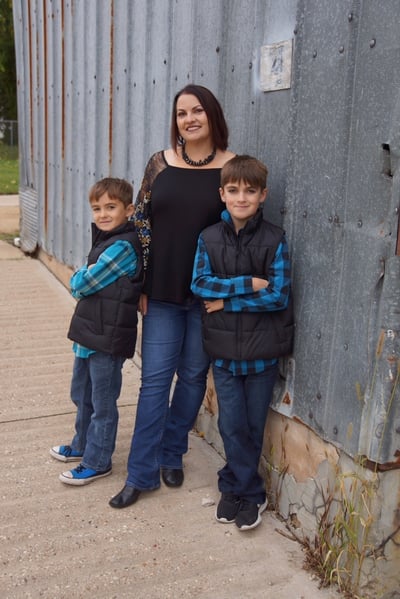 What's your role at HJI?
I am a Benefits Account Manager in our Benefits department, servicing mid to large size groups. I help with renewals, employer and employee education, claim issues, and other day-to-day items.
What was your career path that led you to HJI and your current role?
I earned my Associate's Degree in Child Care & Development, and thought I would be a pre-school teacher. I didn't last long in that role, because I quickly discovered that I didn't like being around other people's children (Ha!). Actually working in the field was much different than student teaching, and I was only 20 at the time, and still had a lot of growing up to do myself. When I left the teaching position, I got a job in retail to pay the bills. That led to a management position where I had a hand in interviewing and hiring new employees, and discovered that I like the HR part of the job. I got a job at a big electronics and furniture retailer in the area in Customer Service, and then a year later moved into the Payroll department. About a year into that job I moved into the Benefits Administrator role, and pretty much learned everything I know about benefits on the job.
For 15 years I was in the Benefits Admin role, both at the retailer and at a non-profit in the area. In 2016, I decided it was time for a change in career, but I still wanted to stay in the benefits field since I had been doing it so long and knew so much!
In 2016 I saw the position of Benefits Account Manager listed at HJI, and I was a little familiar with the organization, as my employer at the time was a client of Clint Bauch with Park Capital Management (formerly Hausmann-Johnson Bauch Financial). I asked him about the position and he told me to go for it; however, I didn't at first because I was afraid that because we were clients, I wouldn't be considered for the job. When I still saw the position listed a couple of months later, I finally applied, and here I am!
What do you wish you'd known when you were just starting out?
It's funny how your path in life changes from what you thought it would be. If you had told me back in high school that I would end up in the insurance world, I would have laughed in your face! I went back to school after I left my teaching job, but I only went back for a vocational Office Assistant diploma, because I didn't know what I wanted to do. While that schooling gave me some valuable skills, I wish I had pursued more Human Resources or insurance classes.
Also, once I was in the Benefits Admin role, I wish I had taken more benefits related classes, and started the process of obtaining my GBA or CEBS certification a lot sooner. I'm very fortunate that HJI allows and encourages continuing education, and are paying for me to earn those certifications now.
What inspires you to come to work everyday?
I feel like I finally found my "home." HJI is a great fit for me, as it's nice to be working with others who also understand benefits. I can say things like, "HMO, PPO, HSA, FSA" and they know exactly what I'm talking about!
It's also great working for an organization that really appreciates their employees. Whether it's a fun Friday activity to beat the winter blues, a summer family party, or paid time to volunteer, they are always doing something to show their appreciation.
As a child, what did you want to be when you grew up? How does that influence what you are doing now?
I wanted to be a teacher ever since I was a little girl, and even though that's not what I ended up doing with my life, I still am able to "teach" our employer groups and their employees about their benefits. My schooling and brief stint as a teacher gave me valuable skills to be able to get up in front and lead a group, no matter if they are pint-sized or full-sized.
What advice would you give someone thinking about going into insurance/starting their career?
I'm sure when most people think of insurance, they don't think of it as the most exciting career; however, it is certainly not boring. This is the liveliest bunch of people with whom I have ever worked! There's a lot to learn, and since it's an industry that is constantly changing, there is always something new to learn.
Tell us a bit about yourself outside of work.
I have two boys, aged 8 and 11, and they keep me pretty busy with sports and music and other activities. When I'm not busy with their activities, I like to be outside, working on a house project, or enjoying a few cocktails around a campfire with neighbors and friends. I also like to run, and love to bake and decorate cakes. My most challenging cake would probably be a stegosaurus cake I decorated before I took a cake decorating class and learned the proper way to make frosting!
---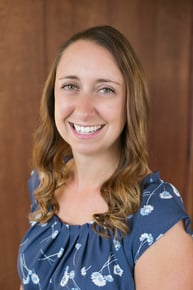 Rachel DeGrand
Rachel joined Hausmann Group in 2015 and became Manager of Marketing Operations in 2018. In her role, she develops and implements marketing and advertising campaigns, oversees strategic events, and supports business development. She also organized the formation of the Community Impact Team at HG, which focuses on company-wide volunteering and community giving. Rachel has a Bachelor's degree in Education from Grand Valley State University. She enjoys running year-round and participating in road races. She's a member of the Business Volunteer Network and regularly volunteers for organizations such as United Way, Alzheimer's Association, and the Ironman Foundation. Her favorite volunteer work is helping organize the annual fundraiser hosted by HG – Melody's Hope for Children Tailgate.