Now and again, it is our recommendation in the insurance industry that businesses carry higher liability limits. So, someone might wonder: "Why is my medical expenses limit so low compared to my other general liability coverages?"
To answer this question, let's take a look at a standard commercial general liability outline: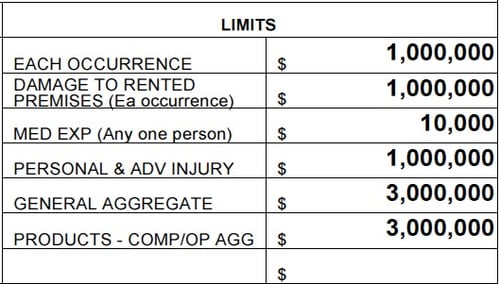 The answer to why a medical expense limit is so low compared to general liability coverage is twofold—where liability coverage is for situations where a third-party claims your negligence for bodily injury or property damage, medical payments is considered an exception. This is because the coverage pays for bodily injury medical expenses to third parties as a result of your operations regardless of fault.
The idea behind reimbursing others—regardless of fault—for medical or funeral expenses they incur as a result of injury or death on your premises is that people are less likely to sue if they receive timely payment for their medical bills. This also helps to prevent any costly legal fees.
So why wouldn't we want our medical payments limit to be higher if the intent is to avoid lawsuit expenses and hefty claims?
First, medical expense limits apply separately to each person, and they are a sublimit of the each occurrence limit. Meaning, payments made under this coverage reduces your each occurrence limit as well as your general aggregate limit.
Here's an example:
You carry a $10,000 medical payment limit, a $1,000,000 per occurrence limit and $1,000,000 general aggregate limit. A customer slips and falls on your wet floor after you neglected to provide adequate warning of it having been mopped. $5,000 in medical expenses are incurred, so your medical expenses coverage pays that cost. The hope is this person is satisfied with you having covered their medical bills, but this is not always the case. This brings us to our second point…
Making a payment under medical payments coverage doesn't release you of liability from the injured party or prevent them from taking civil action. Continuing our example, the customer decides to sue, and you are now processing a claim under the liability portion of your commercial general liability. The $1,000,000 per occurrence limit of liability you originally carried has now been reduced to $995,000 as a result of medical payments. Your general aggregate has also been reduced to $995,000.
Now, let's say five individuals slip and fall on your wet floor—each incurring the maximum $10,000 of medical expense payments. Remember, medical expense limits apply separately to each person and are a sublimit to the each occurrence limit. Even before these individuals have decided whether or not to take civil action, the per occurrence and aggregate limit have been reduced by $50,000.
Once you think about this information, the question of "Why is my medical expenses limit so low?" can quickly become, "Is my medical expense limit too high?" If you own a business that has an exposure to third party slip and fall accidents on sidewalks, aisles, staircases, or even elevators, perhaps it's worth asking whether or not your medical payments coverage is at the right limit. This can help you maintain healthy liability limits in the event that medical payments are not sufficient.
Contact the trusted advisors at Hausmann-Johnson Insurance if you have any questions.