By emphasizing collaboration and valuing employees, we know that high employee satisfaction also means happy clients.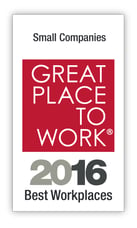 A positive work environment is essential to a healthy business and has been a central component of our success. So we're proud to announce that Hausmann-Johnson Insurance has earned a place among of the country's Best Small and Medium Workplaces recently announced by Great Place to Work® and Fortune.
Hausmann-Johnson Insurance won this accolade based on employees' anonymous responses to an extensive survey about their levels of trust, pride and camaraderie at work. Great Place to Work® reviewed the survey results of more than 52,000 employees from hundreds of companies in the ranking process. Among the findings from the study: trust fuels business performance. For example, the Best Small and Medium Workplaces enjoy roughly three times the revenue growth of their peers, even as they provide a better experience for their people.
"Our values aren't just something we put on paper. We put them to work every day." Says President, Barry Richter. "For employees, that translates to comprehensive health coverage, consistent opportunities for career development, and encouragement from leaders to voice ideas and concerns. We're serious about what we do, but we also have fun and take time to enjoy each other's company over monthly socials, friendly office Olympics, or during our annual parties."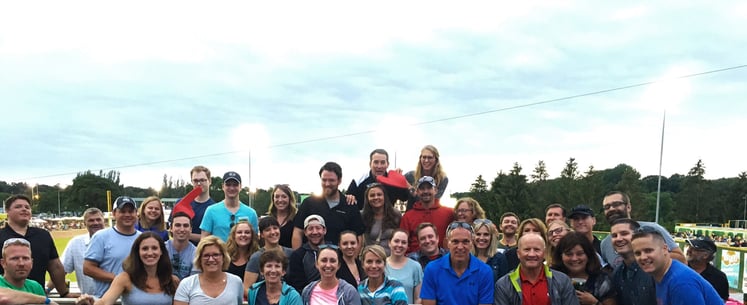 Hausmann-Johnson Insurance came in the Top 50 on the list.
"There's a generosity of spirit that infuses the Best Small and Medium workplaces—one that has a measurable return," said Kim Peters, Executive Vice President of Great Place to Work. "Whether it's funding employee 'passion projects' or giving surprise gifts to customers, the best workplaces give it away. And they get it back in the form of inspired people who innovate harder and generate higher revenue."
The Best Small and Medium Workplaces is one of a series of rankings by Great Place to Work and Fortune based upon employee survey feedback from Great Place to Work-CertifiedTM organizations.
Hausmann-Johnson Insurance also ranked as a best workplace for Financial Services & Insurance and Giving Back by Great Place to Work and Fortune.
About Hausmann-Johnson Insurance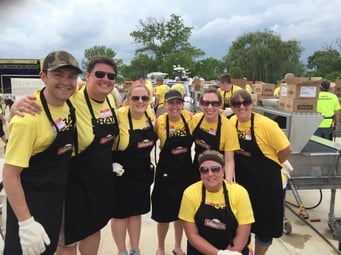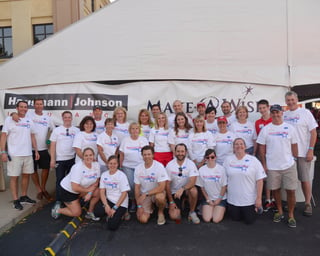 Since 1946, Hausmann-Johnson Insurance has been one of our area's leading insurance agencies and committed to a culture of service. Today, we're made up of eight distinct business units: Property & Casualty, Employee Benefits, Surety, Personal Insurance, Wealth Management and Retirement Planning, Human Resource Consulting, Claims Management, and Health and Safety Consulting. Our continued commitment to our clients' success places us as their trusted advisor.
About The Best Small and Medium Workplaces:
Published together with our partner, Fortune, the Best Small & Medium Workplaces rankings are based entirely upon feedback from more than 52,000 employees at Great Place to Work–Certified companies. Employees completed our anonymous Trust Index© survey, answering questions about how frequently they experience the behaviors that create a great workplace, including, for example, their assessment of the honesty and quality of communication by managers, degree of support for employees' personal and professional lives and the authenticity of relationships with colleagues.
Results from the survey are highly reliable, having a 95% confidence level and a margin of error of 5% or less. Winning a spot on this list indicates the company has distinguished itself from peers by creating a great place to work for all – not only do the majority of their employees experience the company as a great place to work, but this experience is consistent across the organization, regardless of gender, race/ethnicity, job role, or other personal characteristics. The companies with the highest employee ratings compared with organizations of the same complexity in size and scope were selected for the list. Companies with fewer than 100 employees compete for placement on the 50 Best Small Workplaces list, and companies between 100 and 999 employees compete for placement on the 100 Best Medium Workplaces list.
About Great Place to Work®
Great Place to Work® is the global authority on high-trust, high-performance workplace cultures. Through proprietary assessment tools, advisory services, and certification programs, including Best Workplaces lists and workplace reviews, Great Place to Work® provides the benchmarks, framework, and expertise needed to create, sustain, and recognize outstanding workplace cultures. In the United States, Great Place to Work® produces the annual Fortune "100 Best Companies to Work For®" and a series of Great Place to Work® Best Workplaces lists, including lists for Millennials, Women, Diversity and over a half dozen different industries..