In the past 16 years, I've unfortunately seen my fair share of crushed extremities and amputations while working as a safety manager and as a risk control consultant. In many cases, injured employees didn't effectively control hazardous energy prior to performing maintenance or service on machinery.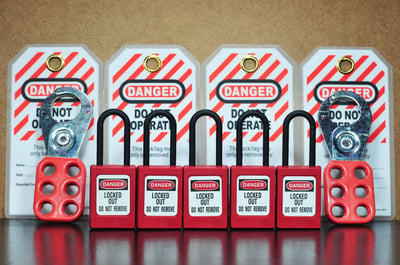 The frequency of injuries and deaths in the U.S. workplace has decreased dramatically since OSHA established Lock Out/Tag Out (LO/TO) standards in 1989. However, I still see serious injuries occur because of gaps in employer LO/TO programs.
Today, OSHA enforcement activity advocates that LO/TO is one of the top priorities for the agency. In fact, many of the larger OSHA fines I typically see are to employers who failed to comply with LO/TO standards, which lead to serious and fatal injuries.
Here are a couple of examples:
A large supermarket chain was fined a total of $182,000 after a worker's hand was amputated while cleaning conveyor equipment. One willful violation with a $70,000 penalty was cited for failing to use LO/TO procedures. Two repeat violations with penalties of $66,000 resulted from failing to develop and document LO/TO procedures. Six serious violations were issued with penalties of $39,400 were issued for failing to adequately train employees on LO/TO procedures.
An egg processer in Nebraska was fined a total of $188,464 in proposed penalties as a result of a fatal accident that occurred when an employee was performing maintenance on a dock leveler and failed to properly brace it during maintenance procedures, causing it to fall on an employee who was helping with the maintenance.
LO/TO injures aren't always experienced by employees who work in the maintenance department. I've seen a significant number of injuries experienced by front line employees, such as machine operators, who perform maintenance and service on their own equipment. Often this is done in the interest of time or to lessen the burden on the company's maintenance department.
Because of this, front line production employees are often required to place body parts in the danger zone of machinery and may not be adequately protected per the LO/TO standard.
Determining if a LO/TO standard applies to production employees can be confusing. Some service activities are actually exempt from OSHA's LO/TO standard, but this only applies to "minor" machine servicing activities or tool changes that are necessary during normal production activities. If the minor machine servicing is considered routine, repetitive, and integral to the use of the equipment for production, then the exemption may apply.
As a former safety manager, one of the biggest challenges for me was determining if these activities truly fell under this exception. I was always concerned that I wasn't providing the level of protection required to keep my employees safe.
If the work truly falls under the LO/TO exception, the employer must still provide alternative measures which act as effective protection for the employee who is working in the danger zone. Typically, this can be done with safe work procedures, interlock safety devices, redundant fail-safe controls, and employee training.
Complying with all of the elements of OSHA's LO/TO standard can be very challenging. Hausmann-Johnson Insurance can provide you with a comprehensive analysis of your entire LO/TO program where we identify gaps, offer recommendations, and work with you to establish an effective LO/TO program. We can also provide employee training and education to help you better improve and inform your workers of safety procedures.
Please take a moment to check out the downloadable document which outlines our services. Don't hesitate to give us a call if you have any questions regarding your existing LO/TO program—we are here to help.