It is with heavy hearts that we share the news of Jeff Hausmann's passing on November 13th.

Throughout his 50+ years of insurance experience at Hausmann Group, Jeff did it all—from construction to real estate, manufacturing to distribution, and everything in between. Jeff began working at his father's agency, Hausmann Insurance, in 1971, served as President from 1980-1996, and sat on the Board of Directors from 1975-2014. He devoted his life to building a successful company where so many people enjoyed working alongside him, including many Hausmann family members.
Outside of his insurance career, Jeff was dedicated to giving back to the Madison community and served on numerous boards including the Madison Children's Museum, Children's Theater of Madison, and St. Vincent DePaul.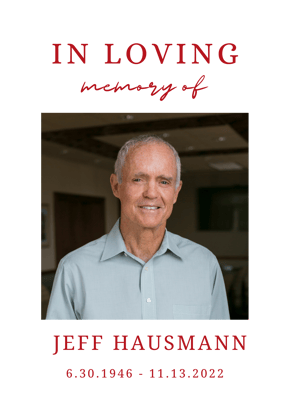 All of us at Hausmann Group learned about dedication to our clients and to each other through Jeff's mentorship and tenacious work ethic. His legacy lives on in every one of us who was lucky enough to know him and work with him.
"The difficulty of his loss is matched by our gratitude for the time we shared, memories made and the enduring lessons that helped to shape the people we are today. His legacy of humility and kindness will never be forgotten. RIP dear father, husband, brother, friend, and partner." - The Hausmann Family

Jeff's full obituary can be viewed here.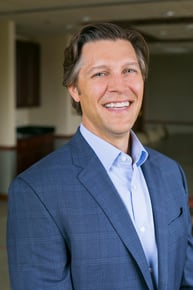 Barry Richter
Barry joined Hausmann Group in 2010 and was later named President in 2014. During his time as President, the agency has been named on the lists of 10 Best Workplaces in Insurance (2015), 50 Best Workplaces for Giving Back (2016), and Best Small Workplaces (2016, 2017, 2018, 2019 and 2020) by Fortune. Prior to joining Hausmann Group, Barry gained insurance industry experience as a commercial agent after concluding a long career playing professional hockey. Barry is a graduate of the University of Wisconsin–Madison School of Business, and holds a BBA in Marketing. He played hockey for the Badgers during that time, went on to represent Team USA in the 1994 Olympic Games, and played professionally for 15 years. He sits on the American Family Children's Hospital's advisory board and is co-chair of the Benefit Advisors Network's board of directors. Additionally, he and his father run a golf outing each year for Easter Seals and have raised over $1,000,000 for the children at Camp Wawbeek. Barry enjoys fishing, golfing, and going up north with his family. He and his wife Kim have 4 children and reside in Verona, WI.