Below you will find a COVID-19 tracker report for January 9, 2021, with updated testing, infection and hospitalization rates for both state and national data in addition to an updated COVID-19 county tracker.
COVID-19 Vaccine Tracker:
As of January 11, 2021, 8.07M of the 22.1M distributed COVID-19 vaccine doses have been administered in the United States, equating to 2.5 doses per 100 people. At least 278,522 people have completed the two-dose vaccine regimen.

Wisconsin is slightly below the U.S. average with 2.12 doses per 100 citizens. West Virginia leads the States with 5.06 doses per 100 citizens with South Dakota coming in a close second at 4.98 doses per 100 citizens. Worldwide, 26M vaccine doses have been administered in 43 countries.

Wisconsin COVID-19 Vaccination Summary Statistics: As of January 8, 2021, Wisconsin has been allocated 420,200 vaccines. 266,675 vaccines have been shipped to Wisconsin and 123,402 have been administered.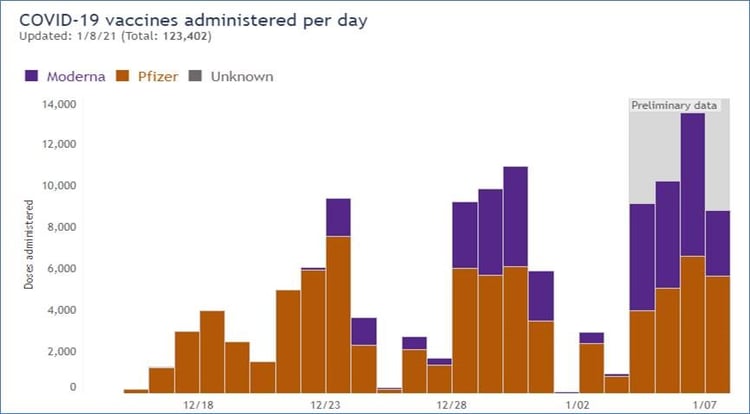 Source: COVID-19 Vaccine Data | Wisconsin Department of Health Services
We hope that you find this information of value as we all continue to navigate through the COVID-19 pandemic. We will continue to regularly update the COVID-19 Data Tracker as more data becomes available.
Click here to download the complete COVID-19 Data Tracker for January 9, 2021.