Hail can be one of the biggest hazards associated with severe thunderstorms. It can be small and relatively harmless, or it can grow to larger than the size of a golf ball and cause extensive damage to your property. From 2010 through 2016, an average of 6339 reports of large hail were received by the National Weather Services offices each year. Damage can range from minor granules coming off your shingles to siding damage and even broken windows.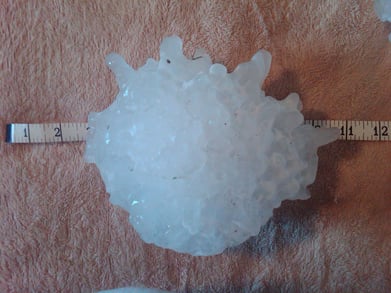 (largest hail stone recorded. Vivian, South Dakota, July 23, 2010. Circumference of 18.625 inches and weighing 1.9375 pounds as cited by National Weather Service on www.weather.gov)
After a hail storm, you typically have one year to file a hail claim. With over 17 years in the insurance business, let me assist you with some of the Do's and Don'ts of a hail insurance claim.
Do: Contact the Hausmann-Johnson Claims Department (or your current insurance agent) and a reputable contractor soon after the damage occurs. If a large area was affected, it could take some time before a contractor will be available.
Don't: Use a 'storm chaser' contractor. Keep in mind that many out of state contractors will arrive from all over the country trying to get as much business as they can. Often times, they perform sub-par work that may not come to light until a few years down the road when you have no way of contacting them again. Try to sign with a local contractor, if possible.
Do: Schedule an inspection with both the claims adjuster and your contractor so that all parties are present at the same time. This ensures that all parties are on the same page when it comes to the scope of work. Remember, the safest way to inspect a roof after a storm is to have a professional handle the inspection.
Don't: Panic if the adjuster and the roofer are having trouble coming to an agreed scope of work. In some cases the adjuster will hire an engineer to perform a second inspection. Our claims department can also assist in setting up a meeting with all parties to hammer out an agreement so that work can begin.
Don't: Dismiss minor damage. Shingle damage can be hard to detect, more so from the ground.
Don't: Automatically assume that just because your neighbor has damage, you have it too. Definitely have your roof inspected if your neighbors are getting repairs, but be prepared if the adjuster doesn't find damage. Not all roofs are made equally and not all storms will affect homes in an area evenly.
Do: Keep a copy of your homeowner's policy handy and know your deductible. If you have replacement cost on your policy, the insurance adjuster will make an initial payment less your deductible and will also take depreciation. But don't worry, once the work is done and the adjuster re-inspects, a secondary "holdback" payment will be issued for the balance. Supplemental payments can also be issued for anything that was missed during the first inspection.
Do: Get an estimate if you think you have damage to your auto. A claims adjuster may not necessarily need to inspect the auto, so having an estimate and photos will help speed up the process once the claim is filed.
The Hausmann Johnson Claims Department is here to help. Please contact us with any questions or concerns you may have after a hail event and we would be happy to walk you through the process. By email newclaims@hausmann-johnson.com or by phone 608-257-3795.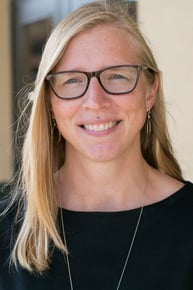 Jessie Reed, AIC, CISR
Jessie is a senior claims counselor with over 15 years of experience with Hausmann-Johnson Insurance. Her main expertise is in Property & Casualty insurance and she supports clients by walking them through the claims process, providing details on coverage and recommending trusted contractors or restoration companies. Being able to provide sound advice to clients during difficult claims situations is where she steps in and makes a difference. Whether it is pursuing an at-fault party, working with a difficult contractor or seeking payment from an insurance company, Jesse will utilize every resource available so that she can deliver an answer for the client. Jessie is a graduate of the University of Northern Iowa with a degree in Marketing. She enjoys traveling and has backpacked through Wyoming, Alaska, Peru, and all over Wisconsin. She shares her love for the outdoors with her husband and daughter, and they often go camping, hiking and biking together.